NCGLNAC now owns nearly 30 acres (generously donated by the Jay County Fair Board) of beautiful, wooded land, complete with pond and wetlands, located just north of the Jay County Fairgrounds in Portland. The first ethno-botanical hiking trail is nearing completion and will be open to the public in 2008.
The site includes a cleared grassy area, a variety of woods and wetlands, and a small lake. Though it is not developed, it is close to existing roads and city services and is within walking distance from Portland's downtown and the fairgrounds, an ideal location for local residents and visitors. Archaeological surveys have not found any evidence of prior habitation on the site, but the Portland area was home to Woodlands peoples and is within traditional Miami territory.
Site Master Plan
The Master Plan for the site of NCGLNAC's future Cultural Center in Portland, Indiana is available (3 MB PDF document). This short but beautifully illustrated booklet shows the site as it exists today and how NCGLNAC envisions it in the future.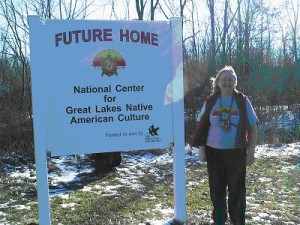 Other Site Information
Also see various news about the site in our past newsletters.